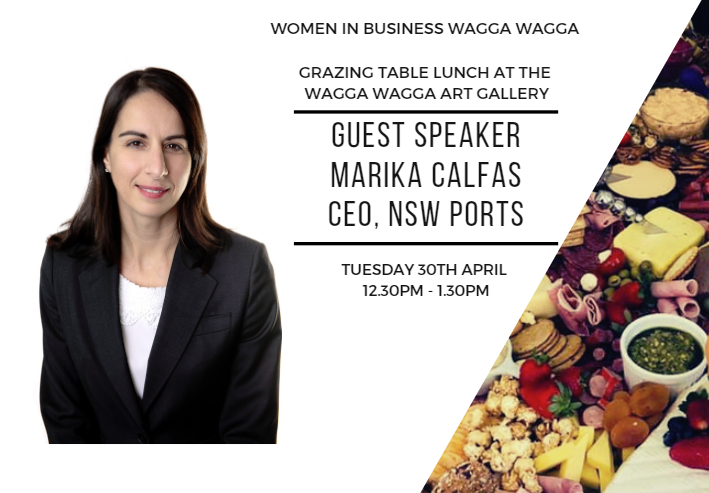 WiB Lunch with Marika Calfas
Women in Business Wagga Wagga welcomes you to a grazing table lunch at the Wagga Wagga Art Gallery with guest speaker, Marika Calfas, Chief Executive Officer, NSW Ports on Tuesday 30th April commencing at 12:30pm.
~~~~~~~~~~~~~~~~~~~~~~~~~~~~~~~~~~~~~~~~~~~
Date: Tuesday 30th April 2019
Time: 12.30pm - 1.30pm
Location: Wagga Wagga Art Gallery, Civic Centre, Cnr of Baylis and Morrow Streets, Wagga Wagga
Tickets: $20 WiB Members | $30 Non-Members & Guests
PLEASE NOTE: WiB Member Tickets are available to current WiB Members only. To access WiB Member Tickets, you will need to click "Enter Promotional Code" above and input the email address associated with your membership as the code.
Student Tickets - Teritary, TAFE and High School students with a valid student ID are entitled to a discounted ticket price of $15. Use promotional code: STUDENT
If you have any difficulties in purchasing your ticket please contact us using the Contact the Organiser button or via email to info@waggawib.org.au.
Ticket Sales Close (RSVP): Monday 29th April 2019 @ 5pm
Tickets are strictly NOT available at the door.
~~~~~~~~~~~~~~~~~~~~~~~~~~~~~~~~~~~~~~~~~~~
Marika Calfas
Chief Executive Officer, NSW Ports
Marika Calfas is the Chief Executive Officer of NSW Ports, the organisation responsible for managing a $5 billion infrastructure portfolio comprising Port Botany, Port Kembla and the intermodal terminals at Cooks River and Enfield.
Marika has operated in the port sector for 18 years, across a broad range of portfolio areas including strategy, planning, environment and infrastructure.
Marika was appointed by the Commonwealth Minister for Infrastructure & Transport to the Expert Panel advising the Government Inquiry into the National Freight and Supply Chain Strategy Priorities in 2017.
Marika is a board member of Infrastructure NSW and Ports Australia, Deputy Chair of the Australian Logistics Council, Member of Infrastructure Partnerships Australia National Advisory Board and Wollongong University's SMART Advisory Council as well as Australia's representative to PIANC International Environmental Commission.
Marika was awarded the 2018 Women's Achievement in Infrastructure Award by Infrastructure Partnerships Australia and the 2018 Judy Raper Award for Leadership in Engineering by the University of NSW.
Prior to working in ports, Marika worked in water resources with Sinclair Knight Merz. Marika holds an Engineering Degree (Environmental), Masters of Engineering Management and Masters of Environmental Law.
Not a Member of WiB? Why not Join or Renew Today!
Membership is open to anyone who identifies with the aims and objectives of our organisation. Our organisation base is diverse and encompasses many businesses and industries. Our members work in a variety of roles at all levels and include bankers, accountants, hairdressers, insurers, entrepreneurs, beauticians, event organisers, directors of boards, medical profeessionals, teachers, lawyers, small business owners and nurses. We also welcome students, wome who are not currently employed, stay at home mums, or anyone with an interest in business and a desire to network with other women is welcome to join our organisation and attend our events.
Membership is an annual membership valid for 12 months from the date of purchase and entitles you to benefits such as discounted ticket prices, entry in the members draw at each event, optional inclusion in our online membership directory and members only offers & events.